Texas A&M Race, Identity, & Social Equity (RISE) Conference and Fellowship
The Texas A&M Race Identity and Social Equity (RISE) Initiative, formally known as the Student Diversity Summit, is a yearlong program that provides students with a better understanding of race, identity and social equity in higher education.
RISE includes an annual conference, and fellowship opportunity which allows selected student leaders to attend the National Conference on Race and Ethnicity known as NCORE, conduct research during the fall semester, and present findings to the campus community at the RISE Conference.
Through meaningful dialogues, the annual conference seeks to cultivate an understanding of diversity and establish a brave space and open environment for discussions on issues that impact Texas A&M and beyond.
The RISE Initiative is modeled after the Iowa State Conference on Race and Ethnicity (ISCORE) Program.
The second annual conference will take place on Friday, March 20, 2020. 
Click here to view the call for papers. 
To learn more about the conference, visit the RISE website.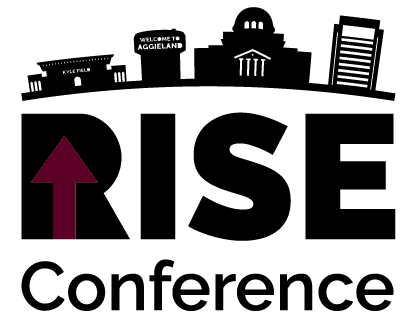 The RISE fellowship is a year-long initiative in which selected undergraduate students conduct research on issues of race, identity, and social equity in their disciplines. RISE fellows will attend NCORE, one of the largest national conferences on race and ethnicity in higher education. During the fall semester, students will conduct research with the guidance of faculty, staff, and other students in their college/department. Participants are selected by the college/department based on their academic interests and achievements as well as their leadership interests and experience.
Click here to view the nomination form for the 2020-2021 RISE fellowship.
For more information about the RISE Initiative, contact TAMURISE@tamu.edu.